Commerical Services
We provide a full complement of commercial tree services:
We're rapidly growing and are always looking to hire exceptional, motivated, quality team members!
Join our team today.
We are interested in establishing healthy, mutually beneficial business relationships.
If you would like to discuss how we can bring value to your business customers through referrals and/or subcontracting we would like to hear what your thoughts are.
We have been providing tree services in the Kitchener, Waterloo, Cambridge, Guelph and surrounding area for some time now and have built a solid reputation for quality work.
We have a friendly experienced team of professionals who listen and deliver on every promise without exception.
Resources
Get a copy of our brochure on
Commercial Tree Services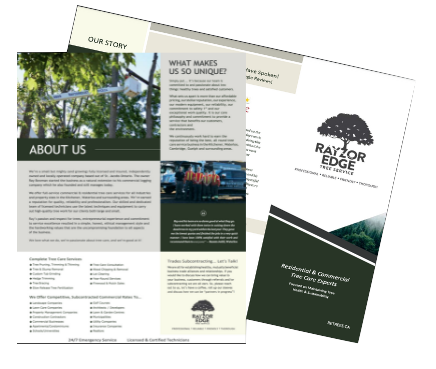 Testimonials
What do people think about Rayzor Edge Tree Services
"Rayzor Edge Tree Service did an incredible job at our house. We had two trees that were rotting and needing to be removed. Ray came first thing in the morning. When I returned from work the trees were gone and all the wood neatly piled by the deck. There was no mess to clean up, just some reusable wood chips from where the stumps were grinded out. I couldn't have asked for better service. Thanks Ray and company."

– Corey, Kitchener