About
Our company
Tree Services Care with Care at the Centre
We're a small but mighty (and growing) fully licensed and insured, independently owned and locally operated company based out of St. Jacobs Ontario. The owner Ray Bowman started the business as a natural extension to his commercial logging company which he also founded and still manages today.
We offer full-service commercial & residential tree care services for all industries and property sizes in the Kitchener, Waterloo, Cambridge, Guelph and surrounding areas. We've earned a reputation for quality, reliability and professionalism. Our skilled and dedicated team of licensed technicians use the latest techniques and equipment to carry out high-quality tree services work for our clients both large and small.
Ray's passion and respect for trees, entrepreneurial experience and commitment to service excellence resulted in a simple, honest, ethical management style and the hardworking values that are the uncompromising foundation to all aspects of the business.
We love what we do, we're passionate about tree care, and we're good at it!
We're rapidly growing and are always looking to hire exceptional, motivated, quality team members!
Join our team today.
Resources
Get a copy of brochure on
Tree Services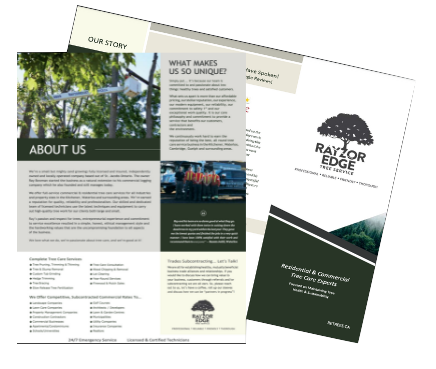 Testimonials
If you are looking for tree services please visit our residential or commercial pages for more information
or simply contact us.
"Thanks for the fantastic job Ray! 7 ash trees in the backyard all needed to come down and Rayzor Edge brought them all down with their bucket truck and did no damage to the lawn at all. Highly recommend them to anyone!
"Rayzor Edge Tree Service did an incredible job at our house. We had two trees that were rotting and needing to be removed. Ray came first thing in the morning. When I returned from work the trees were gone and all the wood neatly piled by the deck. There was no mess to clean up, just some reusable wood chips from where the stumps were grinded out. I couldn't have asked for better service. Thanks Ray and company.
"The crew removed a small tree and trimmed two other trees. Very professional and polite staff. Got the job done quickly and cleaned up after themselves. Thank you. Would definitely recommend their services.
"Highly recommend. They removed a big spruce for us in a challenging spot (lots of potential for damage if done wrong). Outstanding, perfect job!! Professional in every way, totally polite and they left the site nice and clean. All for a very competitive price.